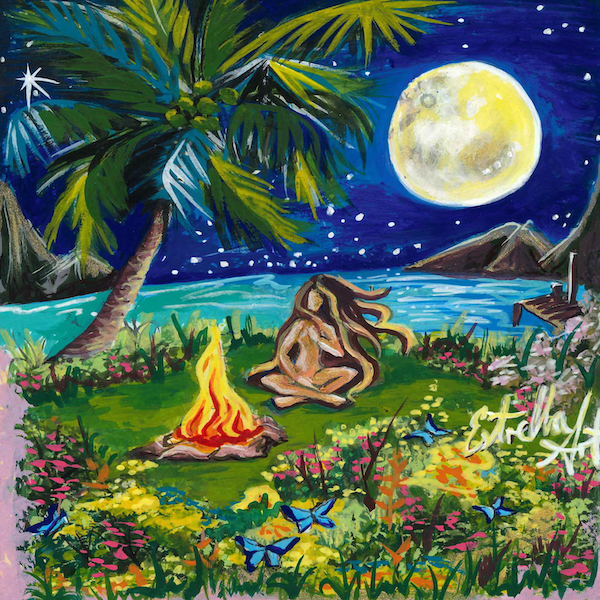 I met this Liz Colibrí, a talented singer/songwriter at Eagle's Nest in Lake Atitlan, Guatemala, in an artist residency for 5 months. I used to play and sing my own songs on that beautiful white piano in the living room every Tuesday. She could perfectly sing in harmony with me, an ability that not so many singers have; I loved that from her so much cause she could just follow me, and she was always embellishing every word I was singing.  
One day, she came to Jaibalito, my beautiful house, which you could only reach from San Marcos by boat. 
I recognized the organic nature and flow of her song "Mujer Medicina." I  told her I wanted to use my Martin Guitar Shenandoah. I recorded two different arpeggios, one higher than the other, to create this ambiance of being around the fire during a ceremony and pan them left and right to distinguish each of them as if they were two guitarists playing while she singing. I was so excited to use the Valhalla Super Massive plugin to create that luscious clouds in my head that it was effortless to achieve that result with some automation. My voice is heard singing an octave below. The sound of the waves and crickets of Lake Atitlan that I added weres captured days before during a bonfire with my iPhone.  
Finally, I added some Cuban bongós and a syncopated bass line that I recorded on the first take that afternoon. I mixed and mastered the song the same day I recorded all instruments and her vocals. Recording her vocals was effortless. Her pitch is perfect. She just recorded from start to finish, one take, no repetition. She got the direction and vibe of her own composition, so no extra coaching was needed. We felt so connected to my green garden around us...  
Mujer medicine is part of my record label, The Human Agency, to help conscious songwriters to record, mix or fully produce their music and release it to the world.